By New York Jazz Academy
In Lessons
Comments

Off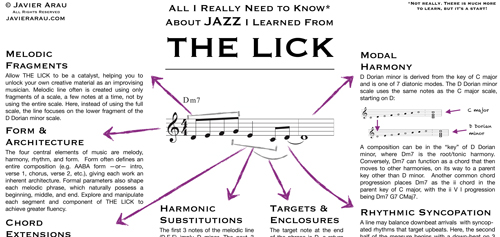 Turns out a video we made a while back, "The Lick In All 12 Keys," has a following.  The video itself was meant to be a fun inside joke on a melodic line that seems to have a life of its own, but the excitement around "The Lick" poses an opportunity for everyone interested. So, let's have even more fun with this, as we at New York Jazz Academy® introduce The Lick Infographic, complete with video lesson and PDF download, entitled…"All I Really Need to Know About JAZZ I learned from THE LICK."
Watch the Video Lesson and Download the PDF
Watch the video lesson on The Lick Infographic below, and download the PDF, too.



Is NYJA Right For You?
Are you wondering if New York Jazz Academy is right for you? There's only so much you can learn by visiting a website, so feel free to contact us for an honest assessment. Also, feel free to read about other NYJA musicians' stories and testimonials, and check out our post helping answer the question, "Is NYJA Right For You?".