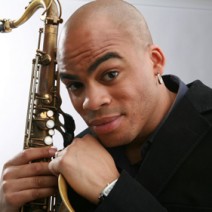 Listen to Wayne:

Love Walked In
Angel Face
Neighborhood: Harlem, Manhattan (will travel)
Ages taught: ages 8-adult
Levels taught: beg-adv
Since moving to New York City in 2000, tenor saxophonist Wayne Escoffery has become one of the Jazz world's most talented rising stars and in-demand sidemen. At only 32 he has recorded four CDs as a leader and been on numerous recordings as a sideman. Wayne began his professional New York career touring and recording with The Eric Reed Septet. In 2001 he became a steady member of the Mingus Big Band/Orchestra/Dynasty, The Lonnie Plaxico Group, and Abdulah Ibrahim's Akaya. Then in 2004 Grammy award winning producer, arranger and trumpeter Don Sickler asked Wayne to be a part of Ben Riley's Monk legacy Septet. At this time Wayne was also touring with Jazz At Lincoln Center's Music, and in 2006 Wayne secured one of the most coveted gigs in jazz: a frontline position in Tom Harrell's working quintet. Wayne has been fortunate enough to study with some of the greatest jazz musicians in the world, including Jackie McLean, Ron Carter, George Coleman, Clark Terry, and Barry Harris. He also has first-hand experience playing with word class jazz musicians such as Herbie Hancock and Ron Carter. Wayne also leads his own group and performs internationally with The Mingus Band and Abdullah Ibrahim. He has experience introducing music to all ages and has learned the history of American Music from many of the innovators of the last five decades. B.Mus, The Hartt School; M.M., New England Conservatory; Diploma, Thelonious Monk Institute of Jazz Performance. For more about Wayne, visit www.EscofferyMusic.com.