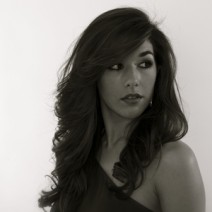 Listen to Thana:
I Remember Clifford
New Life
Neighborhood: Queens, Jackson Heights (will travel)
Ages taught: ages 5-adult
Levels taught: beg-adv
Thana Alexa, raised in Croatia, but born in NYC, is gaining a lot of traction on the New York scene. Her unique compositions and arrangements, in which she regularly uses the voice as an instrument, bring together elements of jazz, pop and rock, making her popular among both listeners and players. Her high level of musicianship is also earning her a place as a strong sideman. Thana's first solo album "Ode to Heroes," set for release in 2014, includes original compositions and arrangements marking a huge step in her career as a bandleader. The album features an incredible band of musicians including Antonio Sanchez, Jorge Roeder, Sergio Salvatore, and Lenart Krecic. Special guests on the album also include Donny McCaslin, Scott Colley and Christos Rafalides. Some of Thana's latest collaborations have been singing on Antonio Sanchez's latest album "New Life," composing for and recording on Gene Ess's latest album, "Fractal Attraction," and also on an upcoming album of Bernard "Pretty" Purdie's. Thana has performed with Antonio Sanchez (performances have included the Montreal Jazz Festival and Red Sea Jazz Festival), Bernard "Pretty" Purdie, Lenny White, Buster Williams, Junior Mance, Donny McCaslin, Matt Brewer, George Colligan, Boris Kozlov, Ari Hoenig, Gene Jackson, Orlando Le Fleming, Ron Affif, and Adam Birnbaum, among others. In 2011 "Siena," Thana's original composition recorded on "Friends" was nominated by the Croatian Music Academy, PORIN, for Best Jazz Composition, and the album was nominated for Best Jazz Album. This nomination was an enormous honor given that these awards are considered the country's equivalent of the GRAMMY. Thana won the 2011 Jazzon Alpe-Adria International Competition for Composers for her composition, "Ode to Heroes," which is the title track of her upcoming album.. For more about Thana, visit www.ThanaAlexa.com.