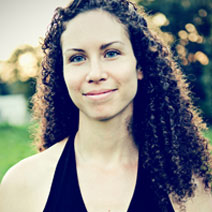 Listen to Tammy:

When You Wish Upon A Star
Neighborhood: Prospect/Lefferts Gardens, Brooklyn (will travel)
Ages taught: ages 5-adult
Levels taught: beg-adv
"Scheffer has the agility and panache of a seasoned horn player and the imagination of the brightest stars of her generation." –Andrea Canter, JazzPolice.com
Vocalist, bandleader and composer Tammy Scheffer has been performing with her sextet to growing audiences and press recognition in the last few years, bringing her pure, instrument-like voice and unique arrangements to premier stages. Renowned saxophonist Greg Osby hand-picked Scheffer's album for his own label, Inner Circle Music, for which she will be recording her second album this summer. Aside from her work as a bandleader, Scheffer takes part in a variety of projects, performing and recording with artists such as Dream Theater's keyboardist Jordan Rudess, Greg Osby, Mark Walker, Sam Barsh, Anat Fort, Russ Spiegel Jazz Orchestra, Javier Arau Jazz Orchestra, Asuka Kakitani Big Band, Vadim Nedselovskey Group and many more. Some of the stages she performed on include the Kennedy Center Millennium Stage in Washington DC, Chicago Cultural Center, Virginia Arts Festival, the Jazz Standard in NYC, the Regattabar and the Beehive in Boston and other premier stages. Scheffer is a recipient of a scholarship from the America-Israel Cultural Foundation and a scholarship from the prestigious New England Conservatory, and was a participant in the exclusive Betty Carter's Jazz Ahead workshop. For more about Tammy, visit www.TammyScheffer.com.