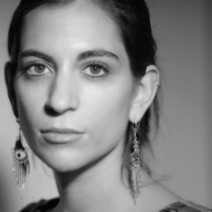 Listen to Sofia:

El Lio
Neighborhood: Greenwich Village, Manhattan (will travel)
Ages taught: ages 11-adult
Levels taught: beg-adv
Languages: English, Spanish
Vocalist Sofia Rei mixes and elegantly fuses South American rhythms with a jazz aesthetic in a unique and extremely seductive way. Originally from Buenos Aires, Argentina, she has been hailed by All About Jazz as "one of the most versatile and in-demand singers on the New York music scene". Sofia has recorded, performed and collaborated with renowned musicians and groups such as Folklore Urbano, Geoffrey Keezer, John Scofield, Lionel Loueke, Alcatraz, Bob Moses, Aquiles Baez, Hector Martignon, Samuel Torres Group, and Pablo Aslan's Avantango. She toured Europe with the Maria Schneider Jazz Orchestra and premiered with the group Cerulean Skies, a piece commissioned by the New Crowned Hope Festival in Vienna. She was recently featured with vocal giant Bobby McFerrin in Instant Opera at Carnegie Hall. Sofia is an active vocalist, composer and arranger. Her debut album Ojala has received great critical acclaim and has been chosen a top 10 album of 2006 by the Jazz Journalists Association. In Danilo Perez words: "She knows how to combine the best of her Argentine roots with the skills and passion necessary to make many contributions to our music community". Sofia has toured Europe, Asia, North and South America singing at renowned international festivals and venues such as the Lincoln Center, the Kennedy Center, Carnegie Hall, the Blue Note, the Festival de Jazz de Barcelona (Spain), the Chicago World Music Festival, the Festival Internacional Jazz en Lima (Peru), the Festival Iberoamericano de las Artes (Puerto Rico), Cite de la Musique (Paris, France), the IAJE Conference 2008 (Toronto, Canada), and the Lapataia Jazz and World Music festival (Uruguay). Her second album as a leader, "Sube Azul" was released in the Summer of '09 by the prestigious label World Village (Harmonia Mundi). Sofia holds a Masters Degree from the New England Conservatory, and she is currently also on the voice faculty of New England Conservatory and Berklee College of Music. For more about Sofia, visit www.SofiaMusic.com.