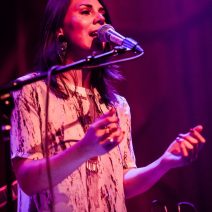 Neighborhood: Harlem (will travel)
Ages taught: 5-Adult
Levels taught: beg-adv

Stretching across three continents and cultures (Thailand, Sweden and America), Sirintip's remarkable debut album Tribus — produced by three-time Grammy winner Michael League of Snarky Puppy — is an exciting, eclectic work that touches on pop, R&B, electronic and jazz, while creating a sound uniquely its own.

If you catch her live, Sirintip will be using a guitar pedal board to create different vocal effects. It presents another unique arrangement to her music. "I incorporate electronics so I can be one of the instruments," she says.

Sirintip holds a Bachelor's Degree from the Royal College of Music in Stockholm and Master Degree from Manhattan School of Music where she studied under Gretchen Parlato, Theo Bleckmann, Dave Liebman and Jim McNeely. Outside of her own album, Sirintip has recorded with Snarky Puppy's Bill Laurance, competed as a semi-finalist in the prestigious Thelonious Monk International Jazz Competition, performed with Benny Andersson from ABBA at the Guggenheim, opened at the Polar Music Prize to honor jazz great Wayne Shorter, performed for the King of Sweden and Thailand, composed musical interpretations of the Nobel Prize nominations for an exhibition at the Nobel Museum and toured with Snarky Puppy.

As an active clinician and educator, Sirintip has lead masterclasses at colleges such as Berklee College of Music, Wesleyan University and Frostburg State University besides teaching private and band lessons. Her philosophy is to create an environment where students are encouraged to dig into their personal authenticity while making sure that they learn the necessary tools to execute the fundamentals. Sirintip also values the importance of having fun while learning. "Music is meant to be played. No matter how old you get, you cannot ever forget to have fun!"

For more info, visit SirintipOfficial.com.