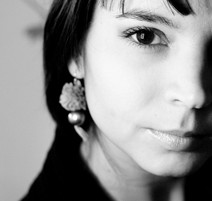 Listen to Sara:

The Wedding Present
Neighborhood: Midtown, Manhattan (will travel)
Ages taught: ages 11-adult
Levels taught: beg-adv
Languages: English, Portuguese
Born in Lisbon, vocalist Sara Serpa is currently living in New York, this being her 5th year in the United States. Her reputation as an innovative vocalist, improviser, and composer, has been growing for the past couple of years, since she initiated a collaboration with alto saxophonist Greg Osby, with whom she recorded his latest album "Nine Levels" and performed at the Village Vanguard. Sara Serpa has recently recorded with pianist Danilo Perez and has been keeping a regular activity as a leader of her own quintet in New York and Europe. Serpa has performed in such venues as The Village Vanguard, The Jazz Standard, The Cornelia Street Cafe, JoeÕs Pub, Panama Jazz Festival, Hot Clube de Portugal, Centro Cultural de Belem Teatro S Luiz, Casa das Mudas ,Regatta Bar, Ryles Jazz Club, Berklee Performance Center, Jordan Hall, Kennedy Center, Blues Alley. Among her collaborations are Greg Osby, Ran Blake, Danilo Perez, Esperanza Spalding, Ben Street, John Hebert, Thomas Morgan, Tyshawn Sorey, John Lockwood, Andre Matos, Jesse Chandler, Ferenc Nemeth, Matt Pavolka, Pete Rende, Kris Davis, Logan Richarson, Nick Falk, Peter Slavov, Aruan Ortiz, Leo Genovese, Albert Sanz, Masa Kamaguchi, Vardan Ovsepian. The press describes her as "Unique beyond word" (Boston Globe), "the freshest voice on the scene" (All About Jazz), and "a bright young Portuguese singer" (New York Times). For more about Sara, visit www.SaraSerpa.com.