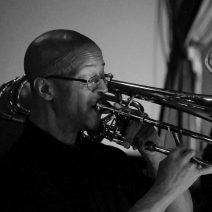 Listen to Ron:

"Donna Lee" (trombone)
"A Night in Tunisia" (trombone)
"Caldonia" (vocals/trombone)
Neighborhood: Harlem, Manhattan (will travel)
Ages taught: 15-Adult
Secondary instruments: theory
New York City based musician Ron Wilkins has been performing on tenor and bass trombones, euphonium, tuba, bass trumpet and vocals for over forty years. He has performed at the highest levels touring around the world with his own groups as well as premiere artists.

Ron's uncanny musicianship has led him to perform in many diverse musical genres. He has performed with artists such as Ray Charles, Aretha Franklin, Rosemary Clooney, Lena Horne, Bob Hope, Jerry Lewis, Dizzy Gilespie, The Temptations, Johnny Mathis, Jimmy Heath, Jon Faddis, Eddie Daniels, Randy Brecker, Wycliffe Gordon, and groups such as The Vanguard Jazz Orchestra, Arturo O' Farrill and his Afro-Latin Jazz Orchestra, The Dizzy Gillespie All-Star Big Band and Small Group, Chris Potter Big Band, Ed Palermo Big Band, Jimmy Heath Big Band, Affinity Brass Quintet, Uptown Brass Quintet, Livio Almeida Brazilian Dectet, Memo Acevedo's Building Bridges Band, San Antonio Brass, Capitol of Texas Brass Quintet, San Antonio Symphony and Festival Orchestra, Austin Symphony and Austin Pops, Mid-Texas Symphony, Victoria Symphony, Temple Symphony, and the Flint Symphony where he was twice guest artist for their summer pops concert series.
Ron has performed with many theatrical productions including The Big Apple Circus, Ringling Brothers, touring Broadway shows, including "West Side Story", "Wicked", "The Lion King", Showboat", "The Producers", "Kinky Boots", "Book Of Mormon", "Shuffle Along" "Motown", and many others. He is currently a sub on the Broadway show Wicked.
He was a featured artist on bass and tenor trombones at the International Trombone Festival in 2002 at the University of North Texas.

Ron is a former member of the USAF Band of the West at Lackland AFB in San Antonio.

Ron also has an extensive background as an educator. He has performed as a guest artist at from the elementary to university levels, jazz festivals, and has maintained his own private studio for decades. He has held positions at several colleges including the University of Texas at San Antonio, University of Incarnate Ward, Texas State University, Texas Lutheran University, Northwest Vista College, St. Mary's University, teaching low brass, jazz studies, and vocals.
Ron has two cds as a leader, "A Tribute To The Masters" (2000) and "The Bundee Brothers Bone Band" (2005) with former Ringling Brothers lead trombonist, Bill Gibson. As of October 2012, he was featured on a live recording with the Frank Wilkins trio (Boston, MA) at the Fishmonger Café in Cape Cod, MA.

Ron Wilkins is a Shires trombone artist and plays Giddings mouthpieces. For more about Ron, visit www.ronwilkins.net