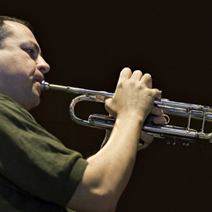 Listen to Ron:

Gaia
Neighborhood: Astoria, Queens
Ages taught: ages 7-adult
Levels taught: beg-adv
Secondary instruments taught: composition, arranging, theory
Since 1982, trumpeter Ron Horton has been an integral part of New York's flourishing jazz scene and he stands out both as an exemplary instrumentalist and as a highly progressive composer and arranger. Whether called upon as a sideman or as a leader of one of his own ensembles, he shows that he is committed to further expanding the existing perimeters of jazz. Horton has had many long musical associations with leaders such as saxophonist Jane Ira Bloom (1983-2000) and pianist Andrew Hill. He was a member of Hill's sextet from 1998 until 2003, and appears on the group's critically acclaimed cd, Dusk (Palmetto 2000). He was also musical director and co-arranger for Hill's big band, and is featured on the cd, A Beautiful Day (Palmetto 2002). Horton has also had an integral collaboration with New York's Jazz Composers Collective, going back to its inception in 1992, and appears on several CDs by the other members of the group, such as Ben Allison and Michael Blake, as well as the collective's Herbie Nichols Project. Horton is currently a member of the Ted Nash Quartet and appears on their cd, The Creep, released April 2012. Ron Horton was born in 1960 in Bethesda, Maryland, and has been frequently called on as a sideman to perform and/or record with such artists as Lee Konitz, Ben Allison, Rez Abbasi, Phillip Johnston, Andy Laster, Mick Rossi, Matt Wilson, Bill Gerhardt, Bill Mays, Peggy Stern, Allan Chase, Andy Biskin, Ted Nash, Jon Gordon, John McKenna, Walter Thompson, Diana Perez, Billy Newman, Mario Pavone, Tina Marsh, Will Holshouser, Sam Bardfeld, Maryanne DeProphetis, and many others. Currently, Horton is also member of the Tony Moreno Quintet, the Tim Horner Group, the Falkner Evans Quintet, and he co-leads a ten-piece ensemble with drummer Tim Horner that is dedicated to performing the music of Andrew Hill. For more about Ron, visit www.RonHorton.net.