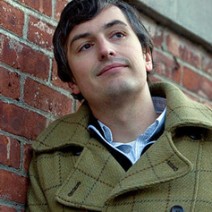 Listen to Randy:
For No One
The Road Ahead
Neighborhood: Prospect Heights, Brooklyn (will travel)
Ages taught: ages 5-adult
Levels taught: beg-adv
Randy Ingram is a thoughtful, versatile young pianist, composer and improviser, with an expressive touch and a keen imagination. Since moving to Brooklyn in the fall of 2003 he has become an in-demand sideman and band leader and gained a reputation as one of the most promising up-and-coming pianists of his generation. His debut record, "The Road Ahead", will be released this October on the Brooklyn Jazz Underground label, and features his trio of Matt Clohesy (bass) and Jochen Rueckert (drums), as well as special guest John Ellis (saxophones). Originally from Laguna Beach, CA, Randy received a scholarship to the University of Southern California and quickly became a fixture on the Los Angeles jazz scene, apprenticing with Tierney Sutton, Joe LaBarbera and the great Billy Higgins. Upon graduating, he received another scholarship to get his Masters' degree at the New England Conservatory in Boston, MA, where he studied with his two mentors, Fred Hersch and Danilo Perez. Upon arriving in NYC he has recorded and performed with Ben Monder, Kate McGarry, Joel Frahm, Joe Locke, Mike Moreno and Kendrick Scott. He has performed at many of the best jazz clubs in the country, including Birdland, the Jazz Standard, Regattabar and the Catalina Bar and Grill. He is a recipient of the 2007 ASCAP Young Jazz Composer's award. An experienced educator, Randy has given numerous college clinics, has taught at the University of New Hampshire, and is currently on the faculty of the Larchmont Music Academy. For more about Randy, visit www.myspace.com/randyingram.