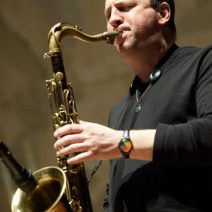 Neighborhood: Upper West Side, Manhattan (will travel)
Ages taught: 10-Adult
Levels taught: beg-adv
Also teaches: flute, drum set, composition, arranging
A native of the Bronx, saxophonist, flutist, drummer, and composer Peter Brainin is a Grammy and Latin Grammy winning artist (he is also featured on 7 other Grammy nominated recordings) who has performed at major concert venues and jazz festivals all over Europe, Russia, Japan, India, North, South and Central America and the Caribbean. Some of the the bands and artists he has toured with internationally include pianist Hilton Ruiz (1989-99), Chico O'farrill Afro Cuban Jazz Orchestra (with whom he recorded 2 Grammy nominated albums, the Latin Grammy winning "Final Night at Birdland" and appeared in the films "Calle 54" and "Thomas Crown Affair"), Mongo Santamaria, Valery Ponomorev, Willie Colon and Legal Alien (1992-2002), Bebo Valdez, Matt "Guitar" Murphy, Samuel Torres, Mambo Legends Orchestra, John DiMartino & Quartet of the Americas, Arturo Ofarrill & the Afro Latin Jazz Orchestra (with whom he is featured on the Grammy winning CD's "Cuba: The Conversation Continues" and "Offense of the Drum") and with his own quartet. Other artists he has performed and/or recorded with include Randy Weston, Benny Golson, Wynton Marsalis, Jeff Watts, Ray Barretto, Jerry Gonzalez, Harold Mabern, Paquito D'Rivera, Jaco Pastorious, Lionel Loueke, Joey Calderazzo, Ruben Blades, Eddie Henderson and Eddie Palmieri. He was twice awarded the BRIO Award (Bronx Recognizes Its Own) for music composition. Some of his compositions and arrangements can be heard on his original CD recordings with co-leader, drummer Steve Johns and with the quartet Native Soul.
As an educator, Peter has led ensembles at New York University, New England Conservatory, the New School, and has done residencies performing, teaching privately and giving master classes in Jazz and Afro-Cuban Jazz at University of California at Long Beach and University of Maine in Orono. Peter has also worked extensively for Jazz at Lincoln Center's Jazz in the Schools Program as a clinician with Arturo O'Farrill in schools in all 5 boroughs of New York City as well as residencies with Mr. O'Farrill for Jazz at Lincoln Center at high schools and universities in California, New Hampshire and Pennsylvania.