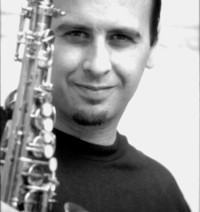 Listen to Oscar:

Fragile
Neighborhood: Midtown, Manhattan (will travel)
Ages taught: ages 8-adult
Levels taught: beg-adv
Secondary instruments taught: flute, clarinet
Known for his splendid tonalities, Argentinian native Oscar Feldman demonstrates superb skills on alto, tenor and soprano saxes, while employing a wide range of pan-american references, from straight ahead to tango, candombe, samba, and mambo. Feldman studied at Berklee College of music where he graduated cum laude in 1995 with a Major in Professional Music. Oscar has recorded and toured internationally with notable artists such as guitar legend Al Di Meola, Grammy winner and top producer/arranger Eumir Deodato, Jeff Tain Watts, Avantango, Paquito D'Rivera's United Nations Orchestra, Alex Acuna at prestigious venues such as the Opera Vienna House, Jazz at Lincoln Center, Town Hall in New York, Park La Villette in Paris, the Blue Note as well as many International Jazz Festivals in Europe, the Americas and Africa. In 1999 Oscar recorded the album "Tropicana Nights" with a Big Band conducted by Paquito D'Rivera which received the Latin Grammy Award 2000 for "Best Latin Jazz Album". His debut album "El Angel" received rave reviews and features guest appearances by Gato Barbieri, Claudio Roditti, Alex Acuna and Paquito D'Rivera. Oscar toured in Spain with Bebo Valdes and His All Star Latin Jazz Band and most recently he performed in Greece with his own band featuring Horacio "El Negro" Hernandez. He recorded for the soundtrack of Ang Lee's new movie "Lust, Caution". Oscar we'll be touring Europe with Fusion Revolution together with Alex Acuna , Tom Kennedy and Otmaro Ruiz. For more about Oscar, visit www.OscarFeldman.com.