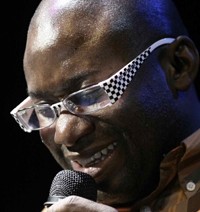 Listen to Miles:

I've Grown Accustomed to Her Face
Everything I Have is Yours
Neighborhood: Fort Greene, Brooklyn (will travel)
Ages taught: ages 5-adult
Levels taught: adv
Miles Griffith's non-traditional use of the voice as a percussive instrument, combined with an uncanny harmonic sense has made him a prime choice for many musicians. In 1994, Miles played the lead role of "Jesse" in Wynton Marsalis' celebrated jazz oratorio, "Blood On The Fields." It premiered at Lincoln Centers' Alice Tully Hall, was released on Sony Music in mid-1997 and won Pulitzer and Grammy Awards. Miles Griffith's impressive resume also includes stints with Max Roach, Reggie Workman, Carl Allen, Bill Lee, T.S. Monk, Barry Harris, Tommy Campbell, Wilber Morris, Burhan Ocal, Jamaaladeen Tacuma, Kirk Nurock, Craig Harris, poet Sekou Sundiata, Michael Jefry Stevens and Miles Griffith/Tony Pancella Quintet, Toshiko Akioshi, Heidi Martin, Tony Reedus, Matjaz Mikuletic, Drago Gajo, Mervyn E. Griffith, Toine Thys, Jure Pukl, Balage Horvath, Janos Nagy, Roger Vanha, Black Coffee Renato Svorinic, Jadran Chicco, Matija Dedic, Vered Dekel, Ron Vincent, David Pleasant, DJ Robert G Roy, DJ Raphneck, Tomi Puric, Orrin Evans, Hospital Audiences, Andreas Grosskopf, Ratko Zjaca, Nick Russo, Ahmed Abdullah's Diaspora, Miles Griffith/Andy Lukas Group, Andrei Kondakov, Fabio Morgera, Daniel Nosig, Anton Feinig, Jeff Lederer, John Ellis, Tony Lakatos, Gregg August, Art Lilliard, Pamela Baskin Watson and James Williams' ICU. Griffith has been a jazz vocal educator for 24 years, having a Masters of Jazz Vocal Performance Degree from Queens College, Bachelor of Fine Arts degree from Long Island University and a private instructor. Griffith received the new Vocal Jazz Instructor position at Queens College Jazz from February 2008 to February 2009, 4 years at City College Jazz program and has returned instructing vocal jazz at the New School Jazz and Contemporary Music. Griffith taught 2 and half years at Columbia University, 14 years at the New School Jazz and Contemporary Music, 5 years at Jazzinty in Novo Mesto, Slovenia, 1 year in Izola, Slovenia with the Plesni Dance. He is world-renowned as a master of the Great American Songbook.