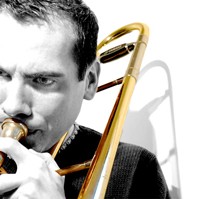 Listen to Mike:

The Journey
Neighborhood: Park Slope, Brooklyn (will travel)
Ages taught: ages 8-adult
Levels taught: beg-adv
Secondary instruments taught: piano (from age 5), composition
Trombonist and composer Mike Fahie has been active performing and writing music in New York since 2000. A native of Ottawa, Canada, Mike began his professional career in Montreal, performing and touring with many great musicians, including Ranee Lee, Vic Vogel, and Jesus "El Nino" Alejandro. Mike moved to New York to pursue his Master's Degree at the Manhattan School of Music, studying with legendary jazz trombonist Conrad Herwig, and becoming the first ever Canadian Fulbright Scholar in the field of Jazz. While at MSM, Mike and fellow Montrealer Billy Bouffard formed the sextet Utopia. They were invited to perform at the inaugural Carnegie Hall Jazz Workshop, an event that culminated in a highlight performance at Carnegie Hall in 2002. Shortly after finishing his Master's Degree, Mike was selected as a finalist in the prestigious Thelonious Monk International Jazz Trombone Competition. Mike is a member of the Gramercy Brass Orchestra of New York, the renowned contemporary music ensemble Continuum, Pedro Giraudo's "Mr. Vivo Big Band", the Paul Carlon octet, Darcy James Argue's "Secret Society", and others. Mike has performed and toured with other renowned jazz artists, such as John McNeil, Ken Peplowski, Ingrid Jensen, Donny McCaslin, Jon Cowherd, John Ellis and others. For more about Mike, visit www.MikeFahie.com.