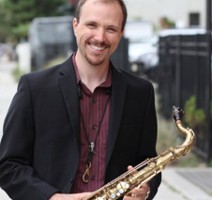 Listen to Michael:

Integrity
Neighborhood: Flatbush/Ditmas Park, Brooklyn
(will travel)
Ages taught: ages 8-adv
Levels taught: beg-adv
Secondary instruments taught: flute, clarinet
Saxophonist Michael Webster's compositions have been played by Joe Lovano, Tom Harrell and Arturo O'Farrill at Birdland and by John Benitez at the Blue Note in New York City. In March 2008, Michael conducted the Grammy winning Afro-Latin Jazz Orchestra at Symphony Space in Manhattan, where they premiered his original commissioned composition "Mombogro". He returned to lead the ALJO's performance of two commissioned arrangements in October 2008 featuring guitarist/composer Michele Ramo. Michael appears regularly with the National Arts Centre Orchestra of Canada as an orchestral saxophonist, and has been a featured soloist in this capacity with John Pizzarelli, Doc Severinsen, Barbara Cooke, Lou Rawls, Ian Tyson, Glen Campbell & Carol Welsman. Originally from Ottawa, Canada, Michael earned his Bachelor of Music in Jazz Saxophone at the University of Toronto in 1999. He was awarded the J.B.C. Watkins Award for Postgraduate Studies, along with a grant from the Canada Council for the Arts, which enabled him to move to New York City in 2002. Michael graduated from the Manhattan School of Music in May 2004 where he earned his Master of Music degree in jazz composition under the tutelage of Michael Abene. While at MSM, Michael began collaborating with Grammy-winning bassist John Benitez, playing saxophone, co-writing and arranging music for the John Benitez Group and the 12-piece Gospel Latin Jazz Project. Since 2003, Michael has been collaborating with Puerto Rican trombonist/percussionist William Cepeda as an arranger for big band and symphony orchestra, as well as playing saxophone in Cepeda's International Sextet. In September 2005 Michael recorded his debut CD as a leader entitled Leading Lines. The album presents 8 original works, for jazz nonet, woodwind quintet and strings. Featured are John Benitez on bass, drummer Obed Calvaire, trumpeter Michael Rodriguez, and Gordon Webster on piano. Presenting a unique blend of Latin Jazz rhythms, classical textures, funky odd meter settings and sheer groove, Michael's 13-piece orchestra, Leading Lines, is a perfect springboard for melodically accessible, harmonically rich & rhythmically infectious music. The group features some of NYC's best young jazz musicians in a unique setting, including Sara Caswell on violin, Rob Mosher on soprano sax & oboe, and Erica vonKleist on saxophone and flute. A passionate educator, Michael continues to serve as musical director of United Rhythms & Visions, a New Jersey-based arts agency bringing music, art & drama to inner-city schools. He has over ten years of experience teaching private lessons in saxophone, clarinet, flute, composition, arranging, jazz theory & improvisation. For more about Michael, visit www.MichaelWebsterMusic.com.