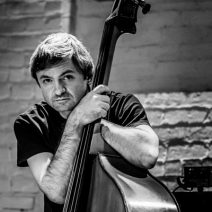 Neighborhood: Brooklyn (will travel)
Ages taught: 10-Adult
Levels taught: beg-adv
Also teaches: trombone

For twenty years bassist/composer Matt Pavolka has been a vital force in the New York Jazz and Creative Music scenes. A partial list of musicians and bands that he has performed with includes Lee Konitz, Paul Motian, Guillermo Klein, Chris Cheek, Kevin Hayes, Ben Monder, House of Illusion, Josh Roseman's Extended Constellations, Dave Binney, The Ryan Scott Orchestra, Magalie Souriou, Elysian Fields, Joe Beck, J. Geils, Tony Malaby, Bill McHenry, Matt Renzi and Ohad Talmor's Newsreel. He has toured extensively in the United States, Europe and Japan and can be heard on many recordings, including releases from Magalie Souriou, Guillermo Klein, Marlon Browdon, Andre Fernandes, Nate Radley, Noah Preminger and House of Illusion. He has released two albums as a leader, "Something People Can Use," on Tone Of A Pitch Records and "The Horns Band" on the Fresh Sounds, New Talent label.

Pavolka grew up in Bloomington, Indiana. He began playing the trombone at an early age and studied with David Baker before heading to Boston to attend the Berklee College of Music on a full scholarship as a trombonist at age 18. He switched his major to bass in his first year there and was awarded an outstanding performance award on that instrument as well as the Charles Mingus Award for his work as a composer. He moved to New York in 1994. In addition to his work as a performing musician, composer and bandleader, he is active as a music educator. He is also the musical director for the Redeye Grill in Manhattan's live performance series. For more info, visit MattPavolka.com.