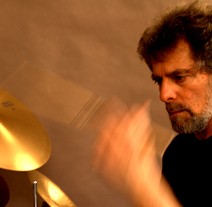 Listen to Lou:
Chichi Rides the Tiger
Neighborhood: Harlem, Manhattan (will travel)
Ages taught: ages 8-adult
Levels taught: beg-adv
Drummer and percussionist Lou Grassi is internationally known for his work in both the traditional and the avant-garde jazz worlds. He has literally played from Ragtime to No-Time – he toured with Ragtime pianist Max Morath and is the leader of the Dixie Peppers. He has performed and/or recorded with a wide range of outstanding artists including Marshall Allen, Billy Bang, Borah Bergman, Rob Brown, Roy Campbell, The Copascetics, James Garrison, Charles Gayle, Burton Greene, Urbie Green, Gunter Hampel, Johnny Hartman, Fred van Hove, Joseph Jarman, Sheila Jordan, William Parker, Perry Robinson, Roswell Rudd, John Tchicai, and Mark Whitecage. Lou has toured extensively, performing throughout the United States, Canada, Europe and Central America. He has been a featured artist at numerous international festivals including The Stork Music Festival, NYC; The Vision Festival, NYC; The Texaco New York Jazz Festival, NYC; The Rochester Jazz Festival, Rochester, NY; Summer's End Music Festival, Middletown, CT; Rive de Gier International Jazz Festival, France; Festas Lisboa, Portugal; CAMP 99, Tubingen, Germany; The Guelph Jazz Festival, Canada, Festival Frei Improvisierter Music, Dresden, Germany and the WIM Festival in Antwerp, Belgium. He has also performed at Banlieues Bleues Festival, Paris, France; Luneburg Jazz Nights, Germany; The Bell Atlantic Jazz Festival, NYC and The International Dixieland Festival of Dresden, Germany. Since 1978, He has been on the staff of New Jersey City University as a dance accompanist, and he has been a teaching artist for New Jersey Performing Arts Center (NJPAC) since 2001. He continues to teach privately and is available for workshops and clinics. For more about Lou, visit www.LouGrassi.com.