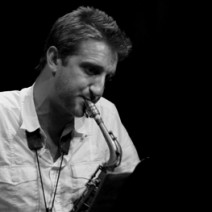 Listen to Loren:

Personal Tonal
Neighborhood: Windsor Terrace, Brooklyn (will travel)
Ages taught: ages 10-adult
Levels taught: beg-adv
Secondary instruments taught: flute, clarinet
"The music of saxophonist and composer Loren Stillman has found acclaimed reviews in such publications as The New York Times, Downbeat Magazine, Jazziz, Jazz Times, and National Public Radio, marking him as an innovative voice of modern jazz. With his training stemming from Lee Konitz and David Liebman, Stillman has performed, recorded, and educated throughout the United States, Europe, and Japan. Alongside an impressive record of performances, recordings, and masterclasses with his own ensembles, Stillman has performed alongside Charlie Haden, Paul Motian Trio 2000+2, Carla Bley, John Abercrombie, Andy Milne's DAPP Theory, Michele Rosewoman Quintessence, Joe Lovano, Eivind Opsvik, John McNeil, Brad Shepik, Russ Lossing, Vic Juris, and The Vanguard Jazz Orchestra. An early start to his musical career found Stillman as recipient of two Outstanding Performance Awards (1996 & 1998) and the Rising Star Jazz Artist Award (2004) from Down Beat Magazine. Stillman attended Manhattan School of Music (1998) and The New School (2002) on full music scholarship, and was a semifinalist in the 2002 Thelonious Monk Saxophone Competition. In 2005, Stillman received the CMA/ASCAP Award for Adventurous Programming and the ASCAP Young Jazz Composers Award. Stillman's original recordings, It Could Be Anything (Fresh Sound, 2005), The Brothers' Breakfast (Steeplechase, 2006), and Blind Date (Pirouet, 2006), received critical acclaim from The New York Times and four star recognition in BBC Jazz Review, Jazz Man Magazine and Downbeat Magazine. Stillman has been featured on WKCR, Weekend America Public Broadcasting, and LIU Radio programming." –Budd Kopman, Cadence Magazine, May 2004. For more about Loren, visit www.LorenStillman.com.