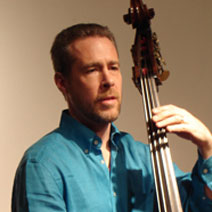 Listen to Lindsey:
Last Look Home
Neighborhood: Inwood, Manhattan (will travel)
Ages taught: ages 9-adult
Levels taught: beg-adv
Bassist Lindsey Horner is one of the more versatile musicians in jazz and modern music. He has most often been heard with musicians on the cutting edge recording and performing with artists such as Greg Osby, Bill Frisell, Bobby Previte, Dave Douglas and Muhal Richard Abrams. As a leader he has produced four recordings, NEVER NO MORE, MERCY ANGEL, BELIEVERS and the recently released DON'T COUNT ON GLORY. Through the '90s he performed as a member of the Myra Melford trio, an association which yielded four highly acclaimed discs. He is a member of the co-operative group JEWELS AND BINOCULARS/MICHAEL MOORE, LINDSEY HORNER, MICHAEL VATCHER PLAY MUSIC OF BOB DYLAN. His European connections include playing with guitarist Philip Catherine, trumpeter Kenny Wheeler, saxophonist Matthias Schubert and the great Belgian tenor player, Erwin Vann. Lindsey also has deep roots in Irish music having toured and recorded extensively with singer/songwriter Susan McKeown, Scottish fiddle master Johnny Cunningham and traditional Irish music legend Andy Irvine. For more about Lindsey, visit www.LindseyHorner.com.