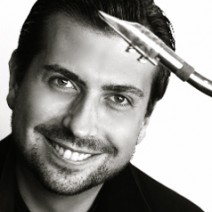 Listen to Karel:

Bye Bye Baby
Neighborhood: Prospect Park, Brooklyn (will travel)
Ages taught: ages 8-adult
Levels taught: beg-adv
Secondary instruments taught: flute, clarinet
Award-winning saxophonist, composer and producer Karel Ruzicka Jr. was born in Prague, Czech Republic into a very musical family. His mother was in the Czech opera and his father, Karel Ruzicka, is a well-known jazz pianist, composer and educator. Karel studied piano and flute from age 5, and on to Prague Conservatory and the Conservatory of Jaroslav Jezek. Since emigrating to the U.S in 1997, he has studied with Barry Harris, Charles Blenzig (musical director for Michael Franks), and Grammy Award winners Bob Mintzer and Joe Lovano. Karel Jr. began his professional career at 16 as leader of "The Four," at clubs, jazz competitions and festivals in Europe. He was featured soloist with Big Band Radio Prague and recorded with the prestigious European Broadcasting Union Big Band. Karel Jr. is featured soloist with the Karel Ruzicka Quartet in Europe and the U.S.A. He performed with the Roy Hargrove Quintet in Europe plus concerts with Wynton Marsalis and members of the Lincoln Center Jazz Orchestra. In 2003 Karel Jr. toured the United States with "Voice of the Dragon," led and written by Chinese-American baritone saxophonist Fred Ho. Recently he toured with the R&B legend Ben. E. King, jazz singer/songwriter Michael Franks and with the great drummer/composer Jeff "Tain" Watts. He is a highly sought after performer and recording artist with George Benson, Ravi Coltrane, Joe Locke, Nellie McKay, Benny Reitveld (bassist for Miles Davis and Santana) and Michael Franks. For more about Karel, visit www.karelruzickajr.com.