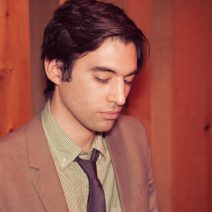 Neighborhood: Brooklyn (will travel)
Ages taught: 5-Adult
Levels taught: beg-adv
Also teaches: Theory, Composition
Pianist Julian Shore is known for his "deep maturity as a composer and bandleader" (DownBeat) and has been called "a pianist/composer who beyond the obvious elegance of his playing, has a clear sense of the bigger artistic picture" (Peter Hum, Ottowa Citizen).

From Narragansett, Rhode Island, Shore grew up listening to his father playing Bach on his home piano and would often sing along as a toddler. After starting piano lessons at a young age he began studies with famed educator Hal Crook as a teenager. Shortly thereafter he was awarded a full scholarship to Berklee College of Music. During his time there, under the mentorship of Danilo Perez, he performed in the Panama Jazz Festival, learning from Wayne Shorter, Brian Blade, John Patitucci while there.

He moved to New York shortly after graduating, and soon had his first serious performing experience with singer Gretchen Parlato- touring the US and abroad with her band in 2010 including the Stockholm Jazz Festival. Since then he has become one of the most in-demand pianists in New York, appearing as both leader and sideman at venues like Carnegie Hall, The Kennedy Center, The Blue Note, and jazz festivals around the globe. He has had the opportunity to perform, tour and record with musicians such as Theo Bleckmann, Gretchen Parlato, Ferenc Nemeth, Gilad Hekselman, Don Braden, Romero Lubambo, Noah Preminger, Matt Wilson, Ben Monder, Kurt Rosenwinkel, Kendrick Scott, Mark Giuliana among many others.

His most recent record "Which Way Now" was released in early 2016 and features Gilad Hekselman, Dayna Stephens, Aidan Carroll, Colin Stranahan and a slew of guests and configurations. His debut record "Filaments" which features Kurt Rosenwinkel, Noah Preminger, Tommy Crane, Phil Donkin, and others was released to critical acclaim in 2012.

Julian's thoughts on pedagogy: "My teaching philosophy is based around universal improvising concepts— developing control over clear and accurate ideas and phrases, playing with good time and an appropriate feel for the musical setting, and genuinely connecting the ear with the instrument through focused ear training. I believe this leads to a more flexible approach to improvising, and a much more well-rounded musician overall. I also emphasize tracing the conventions of Jazz music to their roots ie. examining the rhythms of Africa and South America which provide foundational elements to the groove, or maybe how the impressionist composers might relate to the music of Duke Ellington or Gil Evans etc. I encourage my students to focus on the 'why' not just the 'how.'"

For more info, visit JulianShore.com.