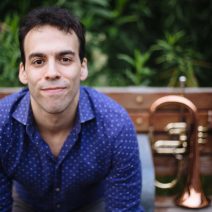 Neighborhood: Brooklyn (will travel)
Ages taught: 5-Adult
Levels taught: beg-adv

BIOGRAPHY

Hi, I'm Jonathan Saraga, and I'm a trumpeter, composer and music educator from New York City. I have been working as a trumpeter, composer, arranger, and studio musician for almost 2 decades and have been teaching full-time for the past 7, which includes nearly 3 at the University level.

Since graduating with a Master's degree in Jazz Studies from SUNY Purchase, I've been performing as a trumpeter throughout U.S., Canada, Europe, Asia, and the Caribbean, playing in ensembles led by highly acclaimed and/or Grammy-winning artists such as Steve Coleman, Henry Cole, Maria Schneider, Darcy James Argue, Orrin Evans, Josh Evans, Jimmy Greene, Bobby Sanabria, Tyshawn Sorey, Eric Bergen and the Afro-Latin Jazz Orchestra.

As an artist and composer, I've been recognized internationally, by way of several organizations: 1st place in the International Trumpet Guild Jazz Trumpet Solo Competition, finalist in the Carmine Caruso International Jazz Trumpet Solo Competition, recipient of the ASCAP Herb Alpert Young Jazz Composer Award, selected-participant at the Banff International Summer Intensive Program in Jazz and Creative Music and the School of Improvisational Music Summer Intensive Program, recipient of 5 Semi-Finalist selections and 1 finalist/honorable-mention selection in the International Songwriting Competition.

As an educator, I have taught all-level/all-age group music playing and appreciation courses for several New York-based organizations: The Afro-Latin Jazz Academy, The Gramercy Brass Orchestra of New York, New York Ensemble Classes, the Lyceum Kennedy International School, Jubilee Enrichment Programs, and of course the NYJA. Currently, I am finishing 6 semesters of service as a Graduate Part-Time Instructor at the University of Colorado, Boulder, where I teach multiple ensembles as well as a 100+ student History of Jazz lecture class.

TEACHING PHILOSOPHY

Over the past 8 years I have absorbed effective methods of teaching, direction, and management by the likes of world-class musicians and educators, like Jon Faddis, Todd Coolman, Ray Vega, Arturo O'Farrill, David O'Rourke, Jim Rotondi, and Brad Goode to name just a few. After working as a public after-school teacher, as well as in the field of child-care and mentorship since 2004, through my experience, I have found that serving as a role model has become an incredibly effective teaching method. Any child, or any human being for that matter, is receptive and responsive to a teacher who is comfortable in their own skin, one who is articulate and direct with their words and actions; and one who offers individuals an environment that supports risk-taking and questioning. These basic characteristics I've found, win over a student's faith in a teacher, and greatly increase the rate of comprehension, application, and acquisition of knowledge.

I develop my curriculum around student interests, which fosters motivation and stimulates the passion to learn. One way to steer learning in a direction relevant to student interest, is to invite student dialogue about the lessons and units of study. Given the opportunity for input, students generate their own ideas and add to the pre-existing ones that have fostered my own imagination, and impact how I develop my lessons. When students share ownership in the curriculum, they feel a strong sense of purpose, are motivated to work hard, to set and accomplish their own goals, and to perform well.

Over the years, I have adapted effective teaching techniques, and fused them with my own skills and knowledge, to create a flexible approach that can mold itself to the abilities, individual needs and goals of a student or a program as a whole. Through my continued studies in music, and many other fields, my ability to relate to people of all situations continue to grow. I am able to quickly assess what kind of approach is appropriate for a group or an individual, and I have experience implementing practices that directly improve learning ability, interest in and comprehension of material. I understand the importance of time management, creative thinking, attention to detail and the ability to make something difficult seem fun and worthwhile.

For more info, visit www.JonathanSaraga.com.