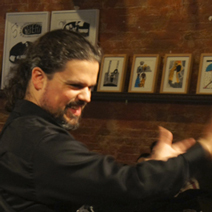 Listen to Javier's work:
Gypsy Children
Neighborhood: Jackson Heights, Queens (will travel)
Ages taught: age 8-adult
Levels taught: beg-adv
Javier Arau is an internationally acclaimed saxophonist, composer, and educator. The front cover artist on the July 2009 issue Saxophone Journal, he has received four Down Beat Magazine Awards for performance, composition, and arranging, and has received national awards and recognition from ASCAP, BMI, and MENC, among others. An active composer in New York City, his compositions have been played by Benny Golson, David Garibaldi, the Berkeley Symphony (Kent Nagano, dir.), and many more. He was a finalist for the BMI Charlie Parker Composition Prize and the IAJE/ASCAP Gil Evans Fellowship. Javier studied composition with Bob Brookmeyer and theory with George Russell. An innovator in the field of jazz education, Javier's research and development has been recognized by leading music institutions worldwide. He has taught at New England Conservatory of Music and Lawrence University and is the founder of New York Jazz Academy. Javier is also the author of several influential music texts and articles, and he has been published by Jazz Educators Journal, UNC Jazz Press, and Dorn Publications. He has taught jazz for over 25 years. For more about Javier, visit www.JavierArau.com.