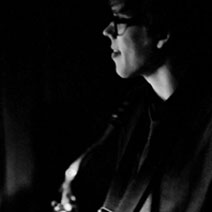 Listen to David:

A Shade Of Jade
The Peacocks
Neighborhood: Bed-Stuy, Brooklyn and NYJA Long Island (Mineola) (will travel)
Ages taught: age 4-adult
Levels taught: beg-adv
Secondary instruments taught: piano, flute, clarinet, drums
Born and raised in Atlanta, David Engelhard is gaining recognition as an extraordinarily talented saxophonist and arranger. He is widely known for his work with GRAMMY-Award winning Zac Brown Band. Here David developed a strong reputation for his Saxophone playing as well as his arranging skills. His musical career began with years of playing classical piano, but the most influential experience was listening Charlie Parker. David has had the opportunity to share the stage with a number of famous jazz musicians such as David Sanchez, Bob Reynolds, Oscar Perez, and many others. While in Atlanta, he performed often with local legends such as Kinah Boto (Nnenna Freelon), Kevin Bales (Marcus Printup, Rene Marie), and others. During his time with the Zac Brown Band, David performed at all the large venues in the Southeast, as well as receiving performing and arranging credits on a live DVD (Pass The Jar) released on Atlantic Records. In addition to performing with Zac Brown, David performed with many other popular talents such as Coy Bowles, Clay Cook, the Wood Brothers, and John Mayer. For more information, visit www.DavidEngelhard.com.