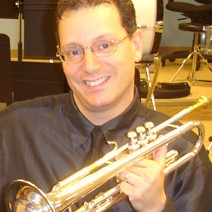 Listen to Chris:

Blues for Michelle
Because You're My Lover
Neighborhood: UES, Manhattan (will travel)
Ages taught: ages 8-adult
Levels taught: beg-adv
Trumpeter and composer Chris Rogers has performed extensively throughout Europe, Japan, South America and the United States as a featured soloist with many prominent artists in jazz and Latin music. At the age of 19, he began a five-year association with Gerry Mulligan's Concert Jazz Band, replacing the legendary Tom Harrell as the featured trumpeter. Since then, Chris has been featured with Buddy Rich, Frank Sinatra, Lionel Hampton, The Mingus Big-Band, Mel Lewis, Toshiko Akiyoshi, Hilton Ruiz, The Vanguard Jazz Orchestra, Mercer Ellington, Frank Sinatra, Mel Torme, Lee Konitz, Horacio "El Negro" Hernandez, Chaka Khan, Maria Schneider, Bob Moses, Tom Harrell, and Mongo Santamaria (as both trumpeter and pianist!!!). During 2005/2006, Chris led 3-piece horn sections for Eartha Kitt (Carnegie Hall / JVC Jazz festival) and Tonya Pinkins ("Jazz at Lincoln Center"). He also recorded and performed with the San Francisco-based cabaret artist Terese Genneco. In 2007 he was featured on critically acclaimed recordings by Pete McGuiness ("First Flight"), Gary Morgan ("Felicidades"), and Marty Sheller ("Why Deny"). Chris' Broadway show credits include "Fosse", "42nd Street", Paul Simon's "Capeman", "Kiss Me Kate (lead)", "Annie Get Your Gun", "Wonderful Town" and "CATS". He has received awards from both JAZZIZ and Downbeat magazines, and also performs on EWI (Electric Wind Instrument) and keyboards. A New York City native, Chris is a product of this city's vibrant music scene and his playing style reflects his many varied influences. His jazz training began by osmosis Ð his father was the late, great trombonist Barry Rogers. From a very young age Chris got to hang out with musicians such as Eddie Palmieri, Michael and Randy Brecker, Lew Soloff, and even James Taylor. Chris soon gained invaluable experience by sitting in around town with The Brecker Brothers' band, Soloff, Woody Shaw, and Mike Stern. Chris studied classical trumpet with Vincent Penzarella of the New York Philharmonic and was trained at the Manhattan School of Music, the University of Miami, and New York's ("Famed") High School of Music and Art. Chris' debut recording as a composer and bandleader, "Voyage Home", is due out in 2009. It features the late 13-time Grammy Award winning saxophonist Michael Brecker, and also features Ted Nash (lead alto saxophonist with Wynton Marsalis & the Lincoln Center Jazz Orchestra).