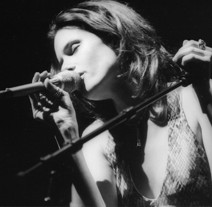 Listen to Carolyn:

Earth Calling
Neighborhoods: Harlem, Manhattan and Midtown, Manhattan (will travel)
Ages taught: ages 6-adult
Levels taught: beg-adv
The daughter of famed bassist Jay Leonhart, Carolyn Leonhart has a soulful voice that has been hailed by critics throughout the world. One of the winners of the Thelonious Monk Vocal Jazz Competition, she is one of the most accomplished and versatile singers of her generation. Carolyn successfully straddles the ever-changing worlds of jazz and pop, interweaving both into many of her projects. She is known for her fourteen-year tenure as lead back-up vocalist with Steely Dan, as well as her work with Lyn Leon and Wax Poetic. She sings jazz classics with authenticity, and navigates through complex music with ease. Critics have written "Leonhart may be the one to give female vocalists a good name again." — John Frederick Moore, Jazziz Magazine, July 2005 and Jazziz Magazine featured Carolyn on the cover of its "Women In Jazz" issue (2003) presenting even more evidence that Carolyn Leonhart stands out in the crowded field of jazz vocalists. Carolyn's three solo CDs (including "If Dreams Come True," a collaboration with tenor saxophonist and husband Wayne Escoffery) have received wide critical acclaim, and she will release her her next collaborative CD with Wayne Escoffery later this year. Carolyn has performed at clubs, theatres and festivals all over the world, and appears regularly at Smoke Jazz Club and The Jazz Standard in NYC. Carolyn teaches privately from her home studio in New York City, focusing on aspects ranging from vocal technique and musicianship skills to song study and improvisation. Since 2006, Carolyn has also been teaching part-time at Berklee College of Music in Boston, MA. At Berklee, Carolyn teaches private students as well as a variety of performance labs ranging from jazz to R & B and Background Vocals. She has given clinics and master classes at high schools and colleges throughout the US and Europe. Carolyn has also been a Voice Consultant on MSNBC and has appeared as a panelist at "GRAMMY Career Day" for New York City High School Students.