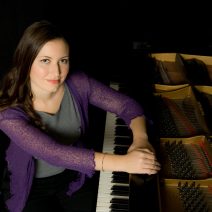 Neighborhood: Brooklyn (will travel)
Ages taught: 5-Adult
Secondary instruments: accordion, theory

Pianist and accordionist Carmen Staaf recently graduated from the Thelonious Monk Institute of Jazz Performance, where she studied and toured with Herbie Hancock, Wayne Shorter and many other jazz masters, as well as performing and giving master classes at the White House, the Kennedy Center, and throughout the US, Morocco, and France. Now an in-demand pianist on the NYC jazz and new music scenes, she tours regularly with drummer Allison Miller, with whom she will be releasing multiple upcoming recordings. She has toured Europe, Latin America, Japan, and India and has performed at the Village Vanguard and at the Kennedy Center (both as a solo pianist and with her trio). She won the 2009 Mary Lou Williams Jazz Pianist competition and was featured on NPR's JazzSet with Dee Dee Bridgewater. Carmen was on the piano faculty at Berklee College of Music for four years, where she taught private lessons to piano majors covering performance, theory and composition in jazz and classical styles; she also taught Basic Keyboard, Reading, Improvisation and Comping Labs. She is also on faculty at the Stanford Jazz Workshop and Litchfield Jazz Camp, where she coaches ensembles, teaches master classes and private lessons, and performs in festival and faculty concerts. Carmen also taught at the Swarnabhoomi Academy of Music in Chennai, India. She has an MM in Jazz Performance from UCLA ('16) as well as a BM in Jazz Performance from New England Conservatory ('05) and a BA in Anthropology from Tufts University ('05). She studied piano and percussion in Cuba for six months.

While her background as an improviser is solidly in straight ahead jazz, through her diverse performance and teaching experiences, Carmen has developed a broad perspective on improvisation drawing from jazz, Afrocuban music, Indian classical music, West African drumming, klezmer, and many other world traditions. Carmen studied classical piano with Alisa Moshinsky (a pedagogy student of Kabalevsky) for 12 years, a foundation that especially informs her teaching of beginning to intermediate piano students. She also studied with Sofia Rosoff (a student of Abby Whiteside) and applies Rosoff's holistic physical awareness approach, as well as methods drawn from Alexander technique and yoga, to promote efficient and connected piano playing. Her teaching is tailored to each student's personal relationship with music and need for self-expression, while maintaining focus on the fundamentals of sound and time. Lessons incorporate creative improvisation, theory, repertoire and technique. Ear training (singing, hearing and identifying melodies, harmonic progressions and rhythms) is a core part of her teaching method, connecting the notes on the page to the student's inner ear and the outer world of recorded and live music.

"I believe that everyone has something valuable, personal and beautiful to say through music, and that our job as teachers is to guide students as they find their own forms of expression, while providing the building blocks they need for great musicianship. Rather than telling them how they 'should' approach music, or what the 'right' sounds are, I invite them to find new questions to ask themselves about music and, through music, about life in general."

For more about Carmen, visit www.www.carmenstaaf.com