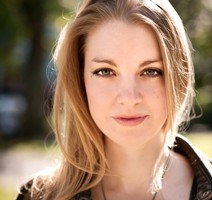 Listen to Aubrey:

Triste
Seaside
Neighborhood: Harlem, Manhattan (will travel)
Ages taught: ages 5-adult
Levels taught: beg-adv
Aubrey Johnson is a New York-based vocalist/composer whose style is rooted in jazz, Brazilian, and creative contemporary music, with and without words. Also on the voice faculty of Berklee College of Music, Aubrey's voice can be heard on Bobby McFerrin's 2010 release "VoCAbuLaries" and on Ron DiSalvio's "Essence of Green," featuring world-renowned jazz drummer, Jimmy Cobb. Aubrey has performed with Lyle Mays (of the Pat Metheny Group), Steve Rodby (Pat Metheny Group), Mark Walker (Paquito D'Rivera, Oregon), Paul McCandless (Oregon), and Jimmy Cobb, as well as many other New York and Boston-based bands. Prior to arriving in New York a year ago, she lived in Boston for four years, studying at the New England Conservatory and later teaching at both Berklee College of Music and directing a vocal jazz group at the New England Conservatory. She has been called a "formidable vocalist" and "adept improviser" by the Boston Globe and the Boston Herald describes her style, "[Aubrey's] wordless vocals add a dash of exotica and bring to Flora Purim to mind." Aubrey has been performing regularly around New York with her newly formed sextet, which features an unusual lineup of violin, woodwinds (bass clarinet/saxophones/flute), piano, bass, and drums. The group will be releasing their debut album (featuring Aubrey's compositions and arrangements on Greg Osby's independent record label, Inner Circle Music next year. During her studies at Western Michigan (BM, jazz performance) and the New England Conservatory (MM, jazz performance), she was awarded on 3 occasions by DownBeat Magazine, twice with Outstanding Performance awards (2007, 2010) and as Best Jazz Vocalist (2008). She received scholarships to attend both universities and upon completing her Masters degree at NEC, Aubrey was awarded the Gunther Schuller medal for "making an extraordinary contribution to the school." For more about Aubrey, visit www.AubreyJohnsonMusic.com.