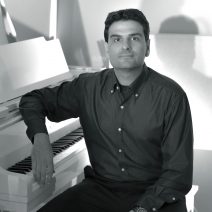 Neighborhood: Brooklyn/Manhattan (will travel)
Ages taught: 5-Adult
Levels taught: beg-adv

BIOGRAPHY

Pianist Asen Doykin has been part of the New York performing, music production, composing and academic scene for the past twenty years. In demand, and well-known, Asen has played at some of the city's best known performance venues and jazz clubs, including Lincoln Center for the Performing Arts, Steinway Hall, Blue Note Jazz Club, Birdland, The Kitano, Smalls Jazz Club, and Joe's Pub.

He has released three albums as a leader and has composed numerous musical pieces for film, television and theater. His music has been featured at the Cannes Film Festival, HBO, BBC, NPR, Queens Public Television and Bulgarian National TV an Radio Channels.

Asen has taught piano master classes as a visiting teacher at Berklee College of Music in Boston, The Royal Stockholm Conservatory in Sweden, Hanover University of Music in Germany, Montclair Kimberley Academy in New Jersey and Plovdiv Music Institute in Bulgaria. Asen's teaching style and approach has been refined through twenty years of experience. Equally comfortable with jazz beginners as well as advanced students Asen has an individual touch that is tailored to the skill level and age of each of his pupils. His teaching style effortlessly combines the process of learning the repertoire and language of jazz piano while also focusing on the technical and theoretical knowledge of the music.