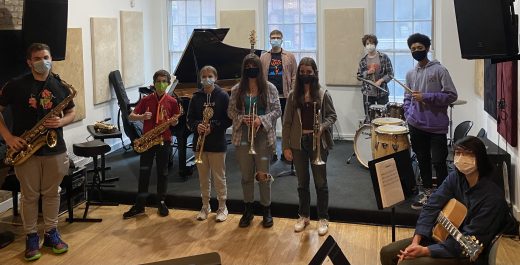 [Update 5/15/2021]: CDC Announcement and Mask Policy at NYJA®
We are aware of the CDC recent announcement regarding modified COVID-19 guidelines. We will evaluate this latest guidance and maintain our current health and safety measures at this time, including face covering requirements. We will continue to make thoughtful adjustments to our policy. As COVID-19 vaccines become available, we encourage people to get vaccinated.
Health and Safety FAQ (In-Person Learning during Covid-19)
We at NYJA® first and foremost hope that you are safe and well. In this time of social-distancing, we have seen a surge in interest in our online jazz courses, yet many people are feeling comfortable with returning to in-person programming. Watch the video below and read through this FAQ to learn more about health and safety protocols below.
View the NYJA® Health and Safety Video
Should I return to in-person learning at this time?
Your return to in-person learning is a highly personal choice. You are free to make your own risk assessments and determine what may be best for yourself and your loved ones. We at NYJA® feel the most prudent choice is for you to register for NYJA® Online programs if you definitely feel uncomfortable with the idea of moving to in-person learning. Despite active measures being taken by building personnel, COVID-19 is a "novel" coronavirus, and scientists and health officials still do not fully understand it. The virus is also highly contagious and sometimes quite aggressive, although much has already become more mitigated, in part thanks to the ongoing vaccine rollout and some success with social-distancing measures in NYC.
What social-distancing measures are being implemented?
Our in-person studio partner, Michiko Rehearsal Studios, strictly enforces capacity limits in all studios, allowing for social-distancing measures recommended by the CDC. NYJA® is using only large rooms, with most capacity limits doubled. For example, a room that might typically hold up to 25 people for a masterclass will only hold up to 10 people, and a rehearsal room that might typically accommodate 8 people might only hold up to 4 people.
What mask-wearing measures are being implemented?
Masks are required of all participants at our studios and in all hallways. This is strictly enforced by building staff. The exceptions are for drinking water (a necessity while studying) and for rehearsing and performing on wind and brass instruments (and all masks must be fitted while resting and in between performances). Wind/brass players and singers are asked to maintain proper distancing when playing (NYJA ensembles will be arranged to accommodate these delicate parameters).
What about eating and drinking?
Eating is not allowed inside our facilities at all. Participants may eat outside of our facilities. Drinking is allowed, with a quick motion of "mask off, sip a beverage, then mask on immediately." No alcohol consumption is allowed.
Do you require and perform temperature checks?
Temperature checks are required upon entry to our studios.
Contract tracing protocol?
Our building managers at Michiko Rehearsal Studios have put in place strict contract tracing protocol, if needed.
Does the building have any history of Covid-19 cases or transmission?
Michiko Rehearsal Studios, our building partner in Times Square, has been fully open and operational for nearly the entire duration of the pandemic. It has seen ZERO Covid-19 cases and has ZERO cases of transmission, thanks to its successful and strict protocols.
What about vaccinations?
We recommend but do not require that you are fully vaccinated before attending NYJA® programs in-person. NYJA® faculty and staff are already largely vaccinated.
What about ventilation and air quality?
Titanium ionization generators are installed in the A/C units. As air flows, positive and negative ions actively purify the air (killing mold, bacteria and viruses. UV-C germicidal lights are installed to break down aerosols in the air and on surfaces in studios and bathrooms
Do you use shields?
Plexiglass shields are put in place at the studio front desk. Players are not required to use shields while rehearsing.
What about aerosols?
While the above measures (including social-distancing, masking, state-of-the-art ventilation systems) may help mitigate the travel of aerosols to a certain degree, there is still a likelihood that aerosols will be present in any indoor space, including NYJA® studio rooms.
What about PPE and cleanliness?
All rooms and common areas are cleaned regularly by building staff. Each studio reservation also includes a mandated 30 minute before and after period with no bookings, to help circulate and freshen up the air in each room. Hand sanitizer is readily available and provided on-site.
Where can I learn more about on-site health and safety measures?
Our building partner and manager, Michiko Rehearsal Studios, has published a Covid policies document here.
What are NYJA® terms and conditions regarding in-person registration?
View our terms and conditions here. When registering for classes, you will be agreeing to all the listed terms and conditions.
Interested in applying for in-person learning at NYJA®?
Learn more about registration for NYJA® small ensembles (late spring and summer) or the NYJA® Summer Jazz Intensives.
Interested in sticking with learning via NYJA® Online?
Learn more about registration for NYJA® Online programs (late spring and summer).
Is NYJA® Right For You?
Are you wondering if New York Jazz Academy® is right for you? There's only so much you can learn by visiting a website, so feel free to contact us for an honest assessment. Also, feel free to read about other NYJA® musicians' stories and testimonials, and check out our post helping answer the question, "Is NYJA® Right For You?".