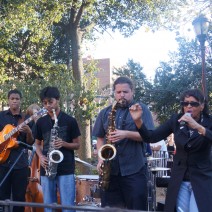 New York Jazz Academy also contracts bands of all styles. Does your event call for some mainstream dance music, a mix of top-40 and disco, more of an indie band sound? We work with bands of nearly every style and will help put you every step of the way. Dress code and appearance is typically formal black, but the look of the ensemble can generally be tailored to fit your event requirements. Typical styles and ensembles include the following:

Cover Bands: Top-40 hits from every decade, including contemporary hits
Indie Bands: Perfect for an intimate setting, featuring vocalists, guitar, keys, bass, drums
Other Styles: Mariachi, Afro-Pop, Gospel, R&B, Country, Irish Fiddle, World Music and more
Event Packages: Light jazz for your cocktail hour, Pop/Top-40 for your reception!

Need a quote?
Are you looking to get a quote for your event? We offer flat-rate pricing, so budgeting is clear, simple, and easy, with no surprises or hidden fees.