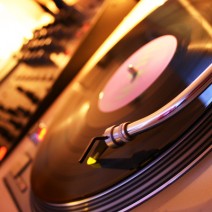 Are you deciding between a DJ and a live band? It's a big decision to make and will greatly impact your event. New York Jazz Academy can refer you to DJ Services we use and trust, so feel free to discuss this option with us. Not all DJ Services are equal, and a great DJ does much more than just press the button on an iPod with speakers. If you really, really want a certain singers' song to be played at your event, and you want it to sound exactly like that singer, then a DJ service may be the best bet for you. Below are some pros and cons to DJ Services. We hope this helps!:

Pro: A DJ can double as a great MC for an event
Pro: With a virtually unlimited playlist, A DJ can play to the crowd, mixing the music up as needed
Pro: The music you hear will be EXACTLY what you expect
Con: A DJ cannot bring emotion and meaning to a performance
Con: Audiences respond to and remember live musicians much more than they remember DJ services
Con: With a DJ, the music you hear will be EXACTLY what you expect
Need a quote?
Are you looking to get a quote for your event? We offer flat-rate pricing, so budgeting is clear, simple, and easy, with no surprises or hidden fees.