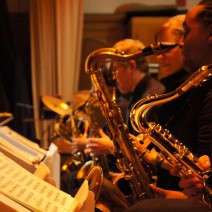 New York Jazz Academy provides big band and dance bands for any suitable occasion. Whether it's a gala ball, a wedding reception, dinner dance, or other event, a big band heightens the level of sophistication and celebration, in addition to giving your guests the opportunity to dance the night away to live music. Dress code and appearance is typically formal black, but the look of the ensemble can generally be tailored to fit your event requirements. Typical styles and repertoire include the following:

Classic Dance Band: Music of Glenn Miller, Benny Goodman, Lionel Hampton and more
Classic Big Band: Music of Count Basie, Duke Ellington, Woody Herman, Sten Kenton and more
Big Band w/ Vocals: Music of Frank Sinatra, Ella Fitzgerald, Etta James and more
More Modern Fare: Cha-Cha, Afro-Latin, Bossa Nova, Funk, R&B and more




Need a quote?
Are you looking to get a quote for your event? We offer flat-rate pricing, so budgeting is clear, simple, and easy, with no surprises or hidden fees.