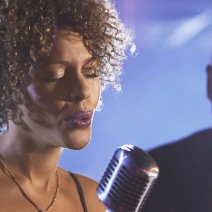 Vocal Jazz can really help an audience connect with the music. The sound of a vocalist singing memorable lyrics can help the audience immediately identify with the performance. A vocalist can add a level of sophistication and style to any ensemble. A vocalist can front a larger band for a reception in a large room but is also versatile enough to handle a more intimate setting for a cocktail hour or other event. Dress code and appearance is typically formal black, but ensemble attire can generally be tailored to fit your event requirements. Typical vocal styles can include the following:

Early Jazz: Dixieland, New Orleans style
Classic Jazz: Swing, Ballads, and Jazz Standards
Latin Jazz: Cha-Cha, Bossa Nova, Afro-Latin and more
Modern Fare: Pop, Gospel, R&B and more

Need a quote?
Are you looking to get a quote for your event? We offer flat-rate pricing, so budgeting is clear, simple, and easy, with no surprises or hidden fees.