By New York Jazz Academy
In News
Comments

Off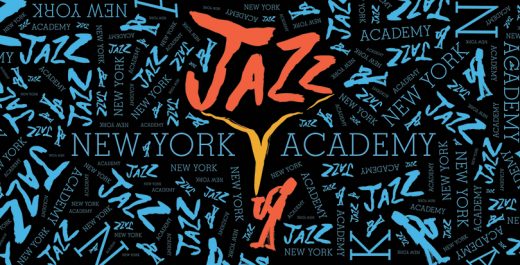 Registration for NYJA® Late Spring Semester 2021 is NOW OPEN
We at NYJA® first and foremost hope that you are safe and well. In this time of social-distancing, we have seen a surge in interest in our online jazz courses. New York Jazz Academy® Late Spring semester registration is now open, and we are offering expanded course options, including more online classes and, possibly, an in-person alternative for those who are interested. Read below for more details. We can seize this moment together!
View the new NYJA® Online Trailer
With NYJA® Online, we come to you. It's the ultimate in convenience and scheduling. For many courses, you can start at any time while learning at your own pace, taking as much time as you'd like to study, process and apply material. NYJA® Online options also allow for teacher-student interaction while also enabling you to learn jazz within a greater online community of students. We also offer small ensemble cohorts, big band styles classes, vocal jazz classes, drumming sections, private lessons, history and theory classes, improv and arranging classes, and more. Bring it on home with NYJA® Online.
The NYJA® Online Difference: A New Video Message from Founder Javier Arau
In-Person Alternatives
During the time of COVID-19, there still may be an option for select musicians to meet in person. If you are interested in exploring an in-person option, Click here for more info.
How to Browse and Register
Click here to browse program options and begin registration.
New York Jazz Academy® Late Spring Semester begins April 26. Registration is now open! Download a PDF of our semester at-a-glance, or read for more information. The entire New York Jazz Academy® 2020-2021 School Calendar is also available online here. Late Spring Semester runs April 26-June 27.


(Click to enlarge schedule below)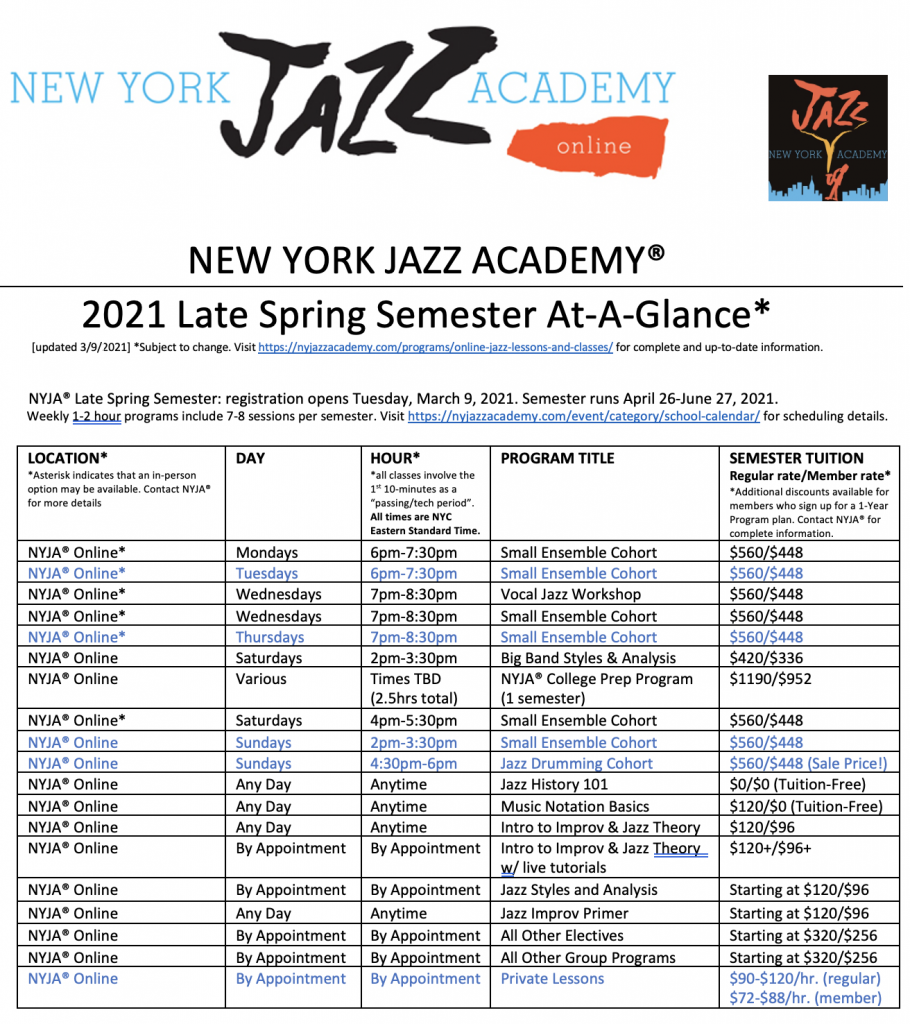 Is NYJA® Right For You?
Are you wondering if New York Jazz Academy® is right for you? There's only so much you can learn by visiting a website, so feel free to contact us for an honest assessment. Also, feel free to read about other NYJA® musicians' stories and testimonials, and check out our post helping answer the question, "Is NYJA® Right For You?".