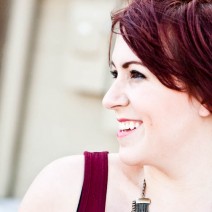 Listen to Sarah:

Spain and Other Songs
Neighborhood: Brooklyn (will travel)
Ages taught: 5-Adult
Secondary instruments: piano, composition, theory, saxophone
New York-based singer-songwriter and multi-instrumentalist Sarah Kervin is telling a story. With a unique
sound and inspired writing, her blend of modern and classic influences "takes you to the place where your
heart is smiling" (MuzikReviews). As an artist, Sarah has received recognition as a soloist, guest artist, composer, and bandleader throughout the nation. She has received three DownBeat Student Music Awards, the Jazz Education Network Composition Award, and research grants in vocal pedagogy from the Magellan Program. Sarah has performed with great artists such as Jon Hendricks, the Manhattan Transfer, Ben Folds, the Fort Worth Symphony, and Afro Blue. Sarah has also been featured as a guest artist with the Texas Instruments Jazz Band, the Dick Goodwin Jazz Orchestra, and the Columbia City Jazz Orchestra, and she has performed as part of the South Carolina, Denton, TX, and Frisco, TX Jazz Festivals and the 2008 Olympic Pre-Game Ceremonies. For more about Sarah, visit www.sarahkervin.com.