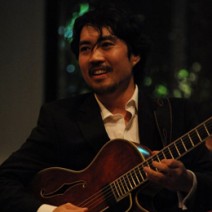 Listen to Andrew:

A Sleepin' Bee
Neighborhood: Sunnyside, Queens (will travel)
Ages taught: ages 5-adult
Levels taught: beg-adv
Guitarist Andrew Lim has been an integral part of the jazz scene in Singapore and abroad since 2001. During that time he has participated in recordings and numerous festival (including Edinburgh Jazz Festival), concert and club performances with musicians from all generations. Andrew has been fortunate to gain the respect of his peers and mentors. He continues to hone his style through writing and performing and is developing a lyrical yet mordern guitar voice that is all his own. He is an active performer and is currently based in NYC. Embraced by its jazz community, he has performed at various venues including Lincoln Centre for the WBGO Champions of Jazz Benefit concert, a residency at Smoke Jazz Club, Dizzy's , Zinc Bar and various local clubs. His reverence to melodies and soulful style have endeared him to audiences throughout the world as well as the musicians he's worked with, which includes Grammy winning artists Ernie Watts and Carmen Bradford, amongst many others.